THE ART OF FILMMAKING - How To Make A Movie For Little Or No Money

This book will teach you how to make a movie that won't break your bank account. Not only will it teach you how to make a movie for little or no money, but will teach you to potentially make a "box office hit" that won't require your first born, and two kidneys to do so. This book will take you through the whole process of filmmaking from Pre-Production, Production, and Post-Production. You'll learn all the key elements in which are forgotten that always cost more money in the long run then originally planned. If you are a first time filmmaker, seasoned professional, or just someone with a dream to make a movie one day, then this book will change your life.




Product Details

Paperback:

228 pages

Publisher:

Trafford Publishing (March 15, 2010)

Language:

English

ISBN-10:

1426927843

ISBN-13:

978-1426927843

Product Dimensions:

0.5 x 6 x 8.7 inches

Buy Now

---

Believe: Empowering, Encouraging and Equipping Filmmakers




This 31 day journey will take a filmmaker, new or seasoned and empower, encourage and equip them to succeed by starting with their mindset. If there's a filmmaker struggling or just not confident enough in their craft and dreams; this book will empower them to new heights of accomplishments. Read the daily quotes, observe them, apply them and meditate on them. As a result you'll believe your dreams are possib

le.






Product Details

Paperback:

104 pages

Publisher:

CreateSpace Independent Publishing Platform (June 7, 2014)

Language:

English

ISBN-10:

1499794282

ISBN-13:

978-1499794281

Product Dimensions:

8 x 5 x 0.2 inches

Buy Now

---
The 30-Day Screenplay: A Daily Guide to Write Your Screenplay




Ever wanted to write a screenplay? Have you written screenplays before but struggled to do it in the time frame that you wished?This book will take you on a 30 day journey to complete your dream of writing a screenplay in 30 days. Not only will this book help you stay focused on the task of completing your screenplay in 30 days, but is interactive to help you along the way. This journey is set up as if the writer has a 9 to 5 job. You'll be able to go you r full time job and write at home in these 30 days. Get ready to be amazed how quick you can write a full feature screenplay. All the writer needs sometimes is someone to keep them on track in order to accomplish their screenplay.

---

The 30-Day Journey In The Holy Spirit: A Daily Guide to Understand The Holy Spirit

This 30-day journey is about taking your faith and relationship with Jesus to the next level. The Holy Spirit longs for our attention, and we long for His attention if we like it or not.


This daily guide will allow you to read a section of scripture a day about the Holy Spirit and you apply the S.O.A.P. method to it.

S.O.A.P....This acronym stands for scripture, observation, application and prayer. This method is indented for you to simply take the Word of God and practically practice a relationship with Jesus.


This is a great way to really dig deep into the next stage of relationship with the Holy Spirit.

Product Details

Paperback: 128 pages
Publisher: CreateSpace Independent Publishing Platform (June 14, 2014)
Language: English
ISBN-10: 1500186430
ISBN-13: 978-150018643

Buy Now


---
The 30-Day Journey On Fasting: A Daily Guide to Understand Fasting
This 30-day journey is about taking your faith and relationship with Jesus to the next level. The Holy Spirit longs for our attention, and we long for His attention if we like it or not. Fasting is one of the greatest gifts God has given us to deeply connect with Him.
This daily guide will allow you to read a section of scripture a day about the Holy Spirit and you apply the S.O.A.P. method to it.
S.O.A.P....This acronym stands for scripture, observation, application and prayer. This method is indented for you to simply take the Word of God and practically practice a relationship with Jesus.
This is a great way to really dig deep into the next stage of relationship with the Holy Spirit.
Product Details
Paperback: 128 pages
Publisher: CreateSpace Independent Publishing Platform (June 14, 2014)
Language: English
ISBN-10: 1500192120
ISBN-13: 978-1500192129
Buy Now
---
SO YOU THINK YOU HAVE CHARACTER - What an Actor Needs to Know Before First Rehearsal
Release Date: Late 2018




THE ART OF FILMMAKING - Concept to Camera in 90 Days
Release Date: Late 2018
This book will guild you through the whole process of Pre-Production. Starting with day 1 through to day 90. So essentially you can think of your concept, then roll right into shooting your film in 90 days. This daily guild will help you

not

make the big mistakes that happen in Pre-Production.
THE ART OF FILMMAKING - The 80% Screenplay
Release Date: Late 2018
This book will teach you how to write a screenplay with a producer's mentality, so that the producer won't say no! There's a natural law called "the 80/20 law." This is called "The Pareto principle (also known as the 80-20 rule, the law of the vital few, and the principle of factor sparsity) states that, for many events, roughly 80% of the effects come from 20% of the causes. Business management thinker Joseph M. Juran suggested the principle and named it after Italian economist Vilfredo Pareto, who observed in 1906 that 80% of the land in Italy was owned by 20% of the population."
Powered by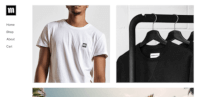 Create your own unique website with customizable templates.