New Book Coming!
Jamie Rauch
Jamie and Mandy Rauch have 4 beautiful kids and live in the Greater Vancouver area in British Columbia Canada. Their heart and calling is for the film & entertainment industry and God's outpouring across Canada and Hollywood!

Jamie and Mandy are committed to being a Christian 24/7 and a landing pad for God's manifested presence to abide across Canada and the film & entertainment industry world wide.

Their heart's desire to see JESUS made known and REAL by carrying His presence and preforming miracles, signs and wonders through the power of the Holy Spirit, showing that Jesus is real and alive today! Operating out of pure LOVE.

​Jamie Rauch has been working in Film/TV and theater for over 20 years, and is an award-winning actor, award-winning film producer and critically acclaimed screenwriter ("Byproduct"). Jamie has been producing and directing films independently since 1994 and owned his first production company at the early age 14, and went on to seeing significant success by the age of 17.

Jamie has published 5 books called "The Art of Filmmaking - How to Make a Movie For Little or No Money." "Believe: Empowering, Encouraging and Equipping Filmmakers," "The 30-Day Screenplay: A Daily Guide to Write Your Screenplay," "The 30-Day Journey In The Holy Spirit: A Daily Guide to Understand The Holy Spirit" and "The 30-Day Journey On Fasting: A Daily Guide to Understand Fasting." Jamie has 4 more books on the way including "So You Think You Have Character? - What An Actor Needs to Know Before 1st Rehearsal."

Jamie has performed in over 20 shows, Directed 5 shows, Written over 10 shows and produced over 10 shows such as "Ghosts of Europe," and "Shut Up and Shoot."

Jamie was personally trained by Bree Valle who is now the "Director of Dramatic Studies" at "Cuesta College" in California just south of L.A. In 1997 Jamie attended a Shakespearean Acting School in Red Deer Alberta, which largely helped Jamie help train young actors for Juilliard. As well as one of the top rated theater B.A. programs in Canada highly complemented his outline theory on "Characterization."
---
Powered by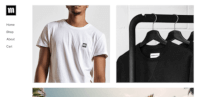 Create your own unique website with customizable templates.